This tutorial was written using ONLY Jasc Animation Shop. I believe it can be done in Gif Animator too. Please note that both of these programs are now free. If you need the link to either of them, please send me an email.
The files you need are included in the zip you will find
here
. They are all sized so they'll be ready to use.
1. Open Animation Shop. Open your fallingshow.psp file. You'll notice there are ten frames.
2. Open your snow scene. You will have to duplicate the frame so that there are ten of them. Go to Edit, Duplicate Selected.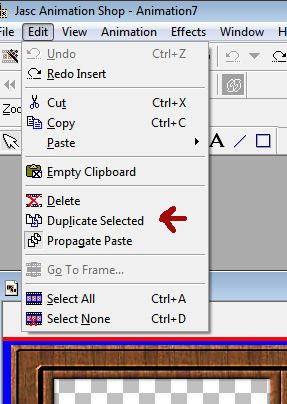 3. You will notice that you now have TWO frames and BOTH are selected. If you go to Edit, Duplicate again, you'll get 4 frames since they are both selected, right?
Bottom line is you want TEN frames here. So keep watch on the number frames you end up with. It is easy to delete any extras but make sure you only have ten frames.
4. Go back to your fallingsnow frames. Go to Edit, Select All (1), then Edit, Copy (2).
5. Click on the snow scene that now has ten frames. Go to Edit, Select All. NOTE: Make sure the Propagate Paste is toggled ON (see pointing hand on screen shot below).
Now, go to Edit, Paste Into Selected Frames.
You will see "snow" poised at the end of your pointer. Place the "snow" so that it is centered as best you can (it is a bit smaller than the scene because you'll have a window over it, right?). It will appear that you'll only get snow in one frame but once you click your mouse, each scene frame will have snow on it. I promise! :) Here is a screen shot of two of the frames for you. There is no way to show you all 10 frames without making it too small.
6. Open you window frame now. Again, duplicate the frame until you have TEN frames. Go to Edit, Select all then Edit, Copy. Just as you did in Step 4. Go back to you snow scene that has the snow on it (that you put there). Your frames are still selected so all you have to do here is repeat the Edit, Paste into Selected Frames.
7. At the top tool bar, at the far right, there is a little "movie" icon
). Click on it for a preview of your animation. Cool, eh?
8. Next, you want to save your masterpiece. Go to File, Save As. Give your animation a file name, making sure to add gif after the dot. I called mine snowscene.gif.
10. If you have size limitations in your groups, it would help to re-size your animation. To do this, go to Animation, Resize Animation.
I re-sized mine 60%. Here is my finished animation: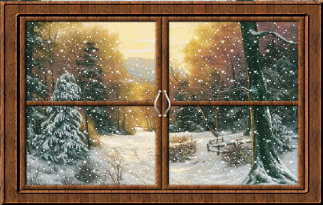 Obviously, if you want to make this a tag, you will have to put your name somewhere. You can do the same above steps to do that. Do the name part in an image editing program like Paint Shop Pro, Photoshop or Photo Impact. Save and open in Animation Shop (or Gif Animator) and follow the steps!
Both of my friends who tested this for me used different window frames and snow scenes. If you do the same, make sure that your images are approximately the same size so it looks right. That you
will
have to do in Paint Shop Pro or Photoshop. I hope you enjoy the tutorial. Please email me if you have any questions. I'll try to help!