I saw a paper clip the other night that was different and thought I'd try to duplicate it. It looks somewhat like the one I saw but I do like it. It is always fun to have some different things in your kit, right? I am going to pass on to you how I did it. Let's go!
Open a new transparent image 500x500 pixels, 300 dpi. Set the foreground color light gray #c0c0c0. Set the background color to null (off). Grab the Shapes tool set at ellipse with a width of 15.00 pixels. Draw out a fairly large oval, center it. When you are happy with the size and shape, convert this layer to a raster layer.
Grab the Shapes tool again and draw out a second oval (ellipse). You want the top of the new oval to be laying on the top of the first one and the oval smaller than the first. See screen shot.
When you are happy with the oval and its placement, convert this layer to a raster layer. Turn off the bottom layer and merge the two layers visible. Apply Eye Candy chrome. I used Eye Candy 5 Impact. Here are the settings I used.
Take the Magic Wand and click in the center of the smaller oval. Go to Selections, Expand, enter 3 pixels. Add a new raster layer, fill the selection with your color. Keeping it selected, apply Flaming Pear Super Blade Pro glass clear preset (ships with the plugin). Keep it selected! Apply an Inner Bevel. I used Eye Candy 5 Impact Bevel with the settings below. NOTE: The bevel shape is "custom" meaning you create it. If you look at the screen shot below, you see the bevel shape has 2 "humps". To get that shape, click on the basic button shape line. That adds a node (I guess that is what it is called). You can now grab that node and move it up and down. It takes a bit of practice to get the shape just the way you want it. If you happen to add a node you didn't want or it is in the wrong place, highlight that node and then click the Delete down at the bottom right-hand corner under the shape box.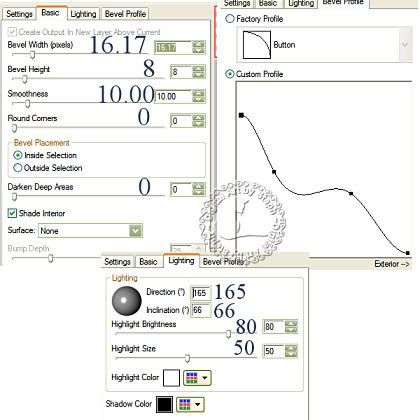 Move the beveled color layer under the oval layer. Merge visible and save as a PNG file.
This is what mine looks like.