First, go to your Dashboard, click on Layout.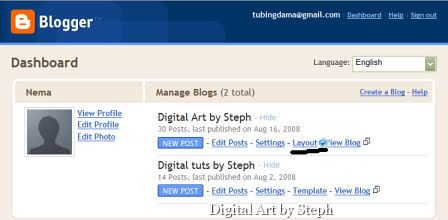 This is what my basic template looks like:
I have all my scrap blinkies and tags under My Scrap Friend. If I want to add a new friend and her blog, then click Edit.
You will see something like this:
It looks like a foreign language, right? If you already know how to create a web page, then the text will look familiar...a reference to a website (a blog in this case) with an image for your viewer to click. To add someone, go to the end of your existing, hit the return key to go to a new line.
I am assuming you already have uploaded the person's blinkie or tag to your photo sharing site (like Photobucket) and copied the html code for that photo. You can either go to Edit, Paste or simply press the control (ctrl) key and the letter V to paste the code you have copied from the photo sharing site.
At the top right of this box is a link Rich Text. Click that and now you will see this:
Highlight the new person's tag/blinkie. At the top of the box is a little green ball with glasses on top of it.

Click that and you get this box:
type in the link to your friends blog...for example, for mine, it would be http://www.nemapunkin.blogspot.com
Click Okay and you are back to the main dialog box. Click Save and your box will close. You'll be back at the main edit page, click Save, then view your blog. That is it!
Now let's say you don't have any friends set up yet and you want to make a new list of them for your blog. Click on Add a Gadget.
You will get a new box with a variety of choices. Pick HTML/Java Script (scroll down to find it) by clicking on the words.
You will get a blank box like this:
Type in your title, then follow the steps above that I outlined for adding to an existing list. Just remember when you are all down, click Save for your changes to take place. When get back to the template page, click Save again then view your blog.
Hope this helps.
Email
me if you have any questions.